Latin Wave 14º Houston – Lineup confirmed!
As part of the activities that Proa Cine develops around the globe, we are proud to present Latin Wave 14º, an initiative that takes to Houston the most outstanding Latin-American productions. The Latin Wave is produced in partnership with the Museum of Fine Arts, Houston and is made possible by Tenaris generous support.
We are thrilled to present films from Argentina, Brazil, Colombia, Costa Rica, Cuba, Dominican Republic, Mexico and Uruguay. This broad diversity will take us to the young spirit of the continent through the view of the most talented filmmakers in the region.
The Latin-American film scene will never be the same after Alfonso Cuarón's Roma. This black and white drama produced by streaming giant Netflix, has dealt the cards in a way that the game will shift to a new unknown level. We are pleased to present it in the big screen.
Many films from our lineup are directed or co-directed by women showing once again the main role they play in the development and innovation of the new perspectives of the contemporary world. Ana Katz brings her share of maturity and irony in Sueño Florianópolis, a sometimes hilarious story that explores the dreams and insecurities of a couple in their 50's. Margarita Hernández gives us an amazing look at an almost unknown period in the life of revolutionary leader Che Guevara with her documentary Che, memorias de un año secreto. Cristina Gallego makes her debut as director of Pájaros de Verano next to the laureate Ciro Guerra, to bring to the screen in an epic way the rivalry between different indigenous groups of northern Colombia. Hilda Hidalgo gets involved in a way that has rarely been seen in the fears and insecurities of an old woman in the incredibly beautiful Violeta al Fin. The Mexican Alejandra Márquez Abella makes her debut with Las niñas bien exploring the reality of Mexico's 70's crisis through a sharp essay about the fall of social status.
This is just a sneak preview of the wonderful panorama we will have the opportunity to share from May 2 to May 5, 2019 at the Brown Auditorium in the city of Houston.
See you!
Argentina
Florianópolis Dream (Sueño Florianópolis)
Directed by Ana Katz
(Argentina/Brazil/France, 2018, 106 min., in Spanish and Portuguese with English subtitles)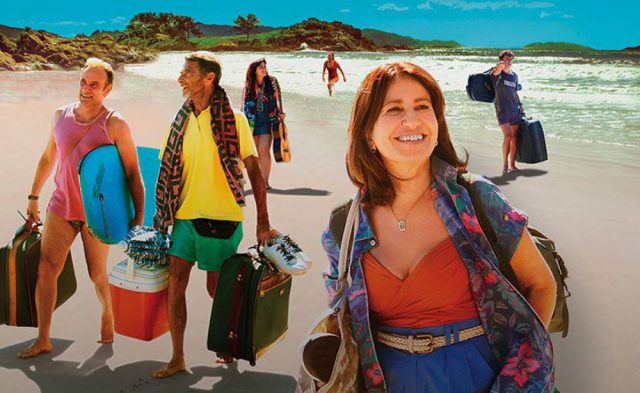 Married pschyoanalysts, Lucrecia and Pedro (Mercedes Morán and Gustavo Garzón), are separating after years of marriage – but not before taking their teenagers on a road trip to Florianópolis, Brazil to celebrate Lucrecia's 50thbirthday. The couple visited the same beach town when they were young and wish to re-evaluate their relationship. Renting a home from a Brazilian couple, the families enjoy the beach, make new friends, and relish the sumptuous air of a summer holiday. Pondering aging, parenting, and the permanence of love and desire, Ana Katz's fifth feature film is a wise and funny reflection on long-term relationships and the mess that couples sometimes make of them. Reminiscent of the films of Eric Rohmer, Katz offers a light-hearted, yet wholly profound piece on the female experience.
Brazil
Che, Memories of a Secret Year (Che, memórias de um ano secreto)
Directed by Margarita Hernandez
(Brazil/Argentina, 2018, 79 min., in Spanish with English subtitles)
Che Guevara was known as the Argentine doctor who rode his motorcycle across the continent and cast aside his medical ambitions to fight for the Cuban Revolution. Debut filmmaker Margarita Hernandez presents a side of Guevara you won't find in films like Walter Salles's Motorcycle Diaries or Steven Soderbergh's Che. Hernandez depicts Guevara's sojourn in Africa, after Fidel Castro famously read a letter of Che's resignation from Cuban governmental duties on camera. Guevara mysteriously disappeared – hiding from the public in Tanzania and Prague, where, thanks to prosthetics and a new identity, he was able to evade CIA agents. Hernandez's film illuminates many details of this little-known time in the revolutionary's life, presenting interviews with three of the Cuban secret service agents that were with him at the time.
Colombia
Birds of Passage (Pájaros de verano)
Directed by Cristina Gallego and Ciro Guerra
(Colombia/Denmark/Mexico, 125 min., in Wayuu, English, and Spanish with English subtitles)
Special guest appearance by codirector Cristina Gallego
Epic in scope and meticulously detailed, Birds of Passagedocuments the true-to-life rise and fall of rival Wayuu clans in northern Colombia. The filmmakers capture the intricacies of Colombia's indigenous Wayuu customs, traditions and celebrations, while reflecting on the clash between modernity and tradition. Rapayet (José Acosta) is determined to marry Zaida (Natalia Reyes) when he falls in love with her at her "coming out" ceremony. The enormous dowry her mother Úrsula (Carmiña Martínez) demands requires some strategizing. An opportunity arises when Rapayet and his friend procure marijuana for Peace Corps volunteers handing out anti-communist propaganda. The meeting will eventually become a source of great wealth and great conflict. Working with professional and non-professional actors, Gallego and Guerra bring to life a little-known culture andgorgeously detail the consequences of a tragic encounter.
Costa Rica
Violeta At Last (Violeta al fin)
Directed by Hilda Hidalgo
(Costa Rica/Mexico, 2017, 87 min., in Spanish with English subtitles)
Recently divorced 72-year-old Violeta (Eugenia Chaverri) lives in the beautiful San Jose, Costa Rica colonial home where she grew up. The home's garden is a peaceful, tropical oasis in the middle of a bustling capital, filled with the plants and trees that her parents planted. Violeta decides that she should learn to swim and start earning an income. To the dismay of her grown children, Violeta places an ad for a roommate. Her swimming instructor shows up at her door, and a deep and fruitful friendship begins. Violeta soon discovers that her ex-husband has borrowed from the bank against her home for years, and they are about to foreclose. She becomes determined to fight back, and her friends and family rally around her. Reflecting on life, friendship and family, Violeta at Last, demonstrates that it's never too late to take chances.
Cuba
The Extraordinary Journey of Celeste Garcia
(El viaje extraordinario de Celeste García)
Directed by Arturo Infante
(Cuba/Germany, 2018, 93 min., in Spanish with English subtitles)
Retired schoolteacher Celeste (María Isabel Díaz Lago) is widowed and lives with her grown son in Havana, while working part time at the city's planetarium. When news breaks that aliens have been living amongst us for the past year, Celeste believes she finally has a chance to experience life wholeheartedly. It turns out that her neighbor, whom she always thought eccentric and possibly Russian, is in fact an extraterrestrial and she has requested that Celeste travel to her planet to teach Earth geography. Celeste and her fellow tourists prepare for intergalactic travel by bunking in an abandoned high school as they await the coming ship. Melding political commentary, absurdity, and a bit of sci-fi, Arturo Infante reflects on contemporary Cuba with a humorous, tongue-in-cheek touch.
Dominican Republic
Miriam Lies (Miriam miente)
Directed by Natalia Cabral and Oriol Estrada
(Dominican Republic/Spain, 2018, 90 min., in Spanish with English subtitles)
As Miriam's (Dulce Rodríguez) 15thbirthday approaches, her family and friends are anxious to meet her new boyfriend. Miriam herself hasn't met him face to face at this point, since the relationship has been strictly online. The pressure to connect personally mounts as Miriam needs a partner to practice the dance routine she and her best friend will perform at their quinceanara. Bi-racial Miriam discovers that her boyfriend is black and does not know how to tell her race-obsessed mother. This fresh debut feature explores the racial and social biases of Dominican society through the eyes of its young protagonist. Audiences accompany Miriam through the pressures of dress fittings, dance lessons, and straightening her hair, realizing that the party is for anyone but her.
Mexico
The Good Girls (Las niñas bien)
Directed by Alejandra Márquz Abella
(Mexico, 2018, 93 min., in Spanish with English subtitles)
Sofia (Ilse Salas) lives a life of luxury in the Las Lomas neighborhood in Mexico City. She spends her days playing tennis, lunching, and gossiping with other wives who make up her social set. When the 1982 financial crisis hits, the prospect of losing her wealth threatens to destroy Sofia's marriage, her friendships, and the life in which she has been accustomed. Depicting the sumptuous and superficial world of her characters, Alejandra Marquez Abella reflects on what happens when those who have wealth suddenly lose that privilege. While following Sofia, whose greatest dream is to have Julio Iglesias attend one of her parties, the film explores the lack of agency from which many of the women suffer, existing on the periphery of their husband's financial affairs.
Roma
Directed by Alfonso Cuarón
(Mexico/USA, 2018, 135 min., in Spanish, North American Indian, English, Norwegian, Japanese, German, and French with English subtitles)
Shot on 70mm black-and-white film, Romais an immersive, technically masterful, visually astounding experience. The film's protagonist, first-time actor Yalitza Aparicio, is the first indigenous woman to be nominated for an Oscar. Set in 1970s Mexico City, Cuarón's semi-autobiographical tale is the story of a family during a year of crisis. Cleo (Aparicio) works as a live-in maid and nanny for an upper-middle-class family in the Roma district. When the father of four abandons his wife and children, Cleo bands together with the mother to take care of the household – while discovering that she herself is pregnant. An homage to the women in Cuarón's life, and to the enduring nature of the human spirit, Romaweaves a tale of the magic and mundaneness that is the essence of our existence.
Museo
Directed by Alonso Ruizpalacios
(Mexico, 2018, 128 min., in Spanish with English subtitles)
Thirty-something Juan (Gael García Bernal) still lives at home in the suburbs of Mexico City and is trying to complete his veterinary degree. Frustrated by his lack of progress and ambition, he convinces his best friend Wilson (Leonardo Ortizgris) to join him on a dangerous scheme. Taking advantage of Christmas Eve festivities, the two break into Mexico City's Anthropology Museum and steal priceless Mayan artifacts. While the actual robbery is meticulously planned, the amateur thieves have no idea how to sell these treasures once they have them! Alonso Ruizpalacio's follow-up to his debut Gueros, is a captivating blend of comic caper and thriller, while also an exploration of family and friendship. Incredibly based on a real events, Museo's assured blend of themes and genres is both profound and hilarious.
Uruguay
Belmonte
Directed by Federico Veiroj
(Uruguay/Spain/Mexico, 2018, 75 min., in Spanish with English subtitles)
Special guest appearance by director Federico Veiroj
As Javier Belmonte (Gonzalo Delgado) prepares for an upcoming exhibition of his work at Montevideo's National Museum, his thoughts center mostly on his daughter Celeste, and the fact that his ex-wife is having a baby with her new husband, creating a new family dynamic that does not include him. His pessimistic nature is reflected in his paintings' melancholic undertones that emerge despite their bold colors and sensuality. Federico Veiroj's fourth feature is a nuanced exploration of the multi-faceted nature of the human condition, where we are forced to navigate through many disparate worlds that define ourselves at work and at home. As Belmonte struggles to stay true to himself as both an artist and a parent, his relationship with his daughter is what truly brings him light.